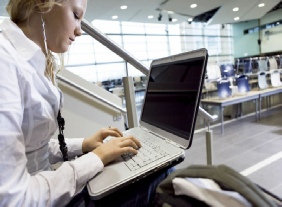 History Interactive Quick Links
GCSE HISTORY
THE AMERICAN WEST INTERACTIVE
Why did the Native Indians lost the battle for the Plains?
[42 PowerPoint Slides and 29 page Work Booklet]


The American West Interactive
GCSE History Content
The areas covered are:-
North American Indian Tribes

European in America

Plains Indians beliefs and culture

Settlers on the Plains

Homesteaders, Ranchers

Cowboys and Mormons

The Wild West

Conflict between Indians and Whites

The Battle of Little Big Horn

Key skills, cartoon analysis and essay writing
The American West Interactive
Other materials
42 Word documents include:-
American West Work Booklet, American West Timeline
Attitude of white settlers
Attitude to the land
Buffalo population
Contact with Europeans
Different views of Native Indians
End of unit evaluation form the American West
Fort Laramie
Homestead Act proof
Homework task 1 and 2 [Differentiated]
How lawless and violent was the West?
How the railroad changed the plains
Indians and the buffalo
Law breakers in the West
Life as a cowboy
Life on the reservation
Major Reno and Little Big Horn
Manifest Destiny
Mormons and Salt Lake City
Native American Indian Population
Native Indian Warriors
Plains Indians' Tribes and their organisation
Role of women on homesteads
Sample Answer
The Plains Wars
Treaties
Why did people head west?
Why did war break out on the Plains?
Why were the Mormons Successful?
Writing Frame
HTML files
Self-Marking Tests 1 and 2
The American West Interactive
Excite and challenge pupils with this interactive Power Point Presentation. It can be used as a personalised independent learning module which enables pupils to cover GCSE content on the American West using the differentiated work booklet but can also be used as a revision resource or a teaching resource via a data projector or interactive whiteboard. It has been designed to give pupils the opportunity to learn and make progress in a different way.
The material is presented in an attractive and lively manner with text, images, audio, internet links, advanced materials to stretch and challenge, keywords and interactive maps in order to keep pupils challenged and engaged.
Each section has clear pupil-centred learning outcomes stating what they will learn and be able to do. They can monitor their understanding and progress through the embedded interim self-marking tests, homework tasks, end of module test and the extended writing task. There are sample answers and mark schemes.
All of our resources include VAT and full institution site license.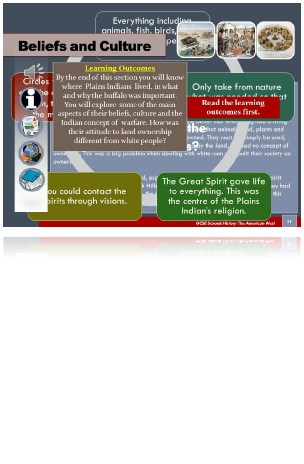 The American West Interactive
What is included?
42 PowerPoint Slides
29 page Work Booklet
42 supporting Word documents
2 Self-Marking Tests
Preview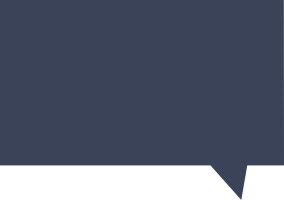 "These are the best GCSE History resources I have bought in a long time. Resources of substance that are very well presented."
David Bartlett, Head of History, Ponteland High School, Newcastle Upon Tyne.
What teachers are saying about History Interactive Resources
Find out more about using History Interactive
History Interactive for
GCSE Exam success
Resources for all exam boards
OCR AQA EDEXCEL
WJEC SQA
Use History Interactive for:-
EXAM REVISION
INDEPENDENT LEARNING
RESEARCH
WHOLE CLASS PRESENTATIONS
CONTROLLED ASSESSMENT